Contact
Lesley Jones
wer.energygroup@gmail.com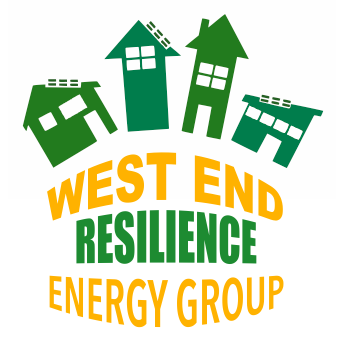 Organisations Involved
Themes
The West End Resilience Energy Group assists households and
neighbourhoods find equitable, clean & efficient energy solutions to save
money and reduce carbon emissions.
West End Resilience (WER) is an informal neighbourhood group based on a
common sense of place and mutual support in changing times, open to anyone living
on the west side of Castlemaine. Initially formed in 2019 out of concern for the
impacts of climate change, the devastating 2019-20 fires, 2022 flood and the COVID
pandemic have highlighted the need for strong community networks.
As part of West End Resilience, our small Energy Group formed to investigate equitable, clean and efficient sustainable energy solutions for our neighbourhood. Since May 2021 the Energy Group has undertaken a neighbourhood survey, hosted free household energy saving workshops (open to all), met with a range of allied community and professional groups and invited energy experts to address the group and the wider community.
In mid 2023 the Energy Group completed a comprehensive summary of resources,
community energy projects and systems we've learned about, which are available for
the benefit of any neighbourhood wanting to cut their emissions.
ZNET: emission avoidance and drawdown
Supporting households to reduce emissions
ADAPT: people, places and sectors are climate ready
Information, education and advice for households and communities on adapting homes and habits to a changing climate
Supporting community connectedness and capacity for collaboration
REGENERATIVE CULTURE: embrace caring for Country and Community, working creatively and a just society
Encouraging social engagement and active participation in taking action and grappling with climate impacts.