Community Climate Transition Plan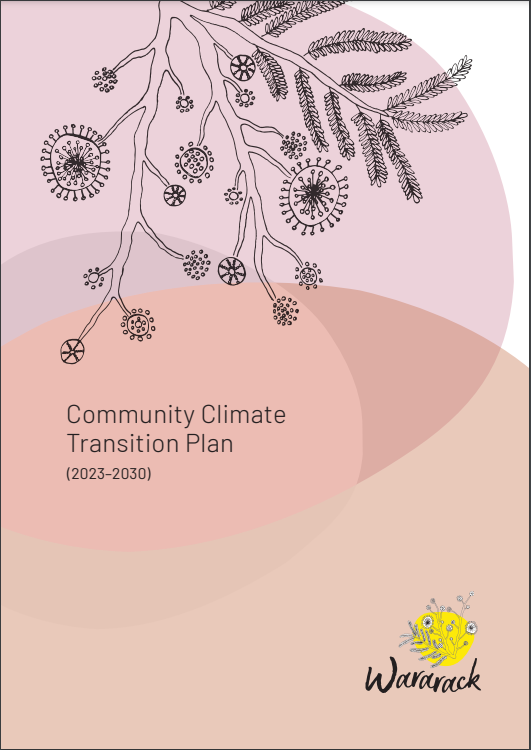 This initial 1.0 (22/2/23) version of the Community Climate Transition Plan (2023–2030) (The Plan) sketches a transition that is relational in character and regenerative in its aims and outcomes. The transition aims to measurably reduce carbon emitting activities; to ensure security of everyday needs such as food and housing, and conviviality within the shire community as we adapt to an unstable climate; and, to grow in cultural ways of solidarity and sharing that support our relations with one another, and with Djaara Country, as we move to stabilise the climate. In short, our three pillars and principles are znet, adapt and culture. The Plan is holistic in terms of Djaara Country (within the shire) and works from our strengths.
Wararack is a coalition of those supporting this shire-wide, community-led effort towards regenerative ways of living in response to the climate crisis. Wararack is the glue that brings people and purpose together within this unique place. Wararack will support the shire community to prioritise areas for action, areas that are within the community's scope to influence and are deemed to have the most significant impacts on our net zero emissions reduction target. Wararack will adopt such priorities for promotion as areas for action. Wararack promotes action that helps us to collectively reach net zero emissions, to better prepare for climate impacts, to embrace change and to forge new ways of doing and thinking. This transition to regenerative living is an holistic response to the climate crisis. Wararack is tasked with holding this transition to a climate-safe future for the next generation and beyond. 
The Wararack narrative of change emphasises relationships, ecological and social regeneration, inclusion, justice, collectivity, connection and collaboration. Wararack aims to develop inclusive and adaptive processes to inspire people living within Mount Alexander Shire to imagine, create and work together towards a shared future in a rapidly changing world. Our approach is to nourish existing strengths in our community — a clear voice for climate justice, the will to collectively shape our future and a diverse range of projects, programs, initiatives and groups actively working towards regeneration across all activities. We are establishing processes for collaborating effectively; internally as a diverse community and externally as a coalition collaborating with government and other relevant powerbrokers. 
Wararack is comprised of a Core Group, Home Groups, Action Groups, Guardians, Critical Friends, Partners and other supporters (such as funders) — all open to any member of the shire community to become active within. Initiatives are independent activities with similar, contributory, objectives. As in a natural ecosystem, Wararack sees distinctive roles and places for everyone in the shire community. Knowledge and power is distributed and the system itself is regenerative and self-perpetuating. The Plan proposes principles and pillars, structures and uniform approaches for community members to become involved in the transition. The Plan also sketches out how Wararack is forming as a custom-made institution for this unique community-based transition. Our vision is for Wararack to support an existing and expanding ecosystem of thriving project-based activities (Initiatives) that collectively provide regenerative outcomes for the whole community.
[Download The Plan to read on]